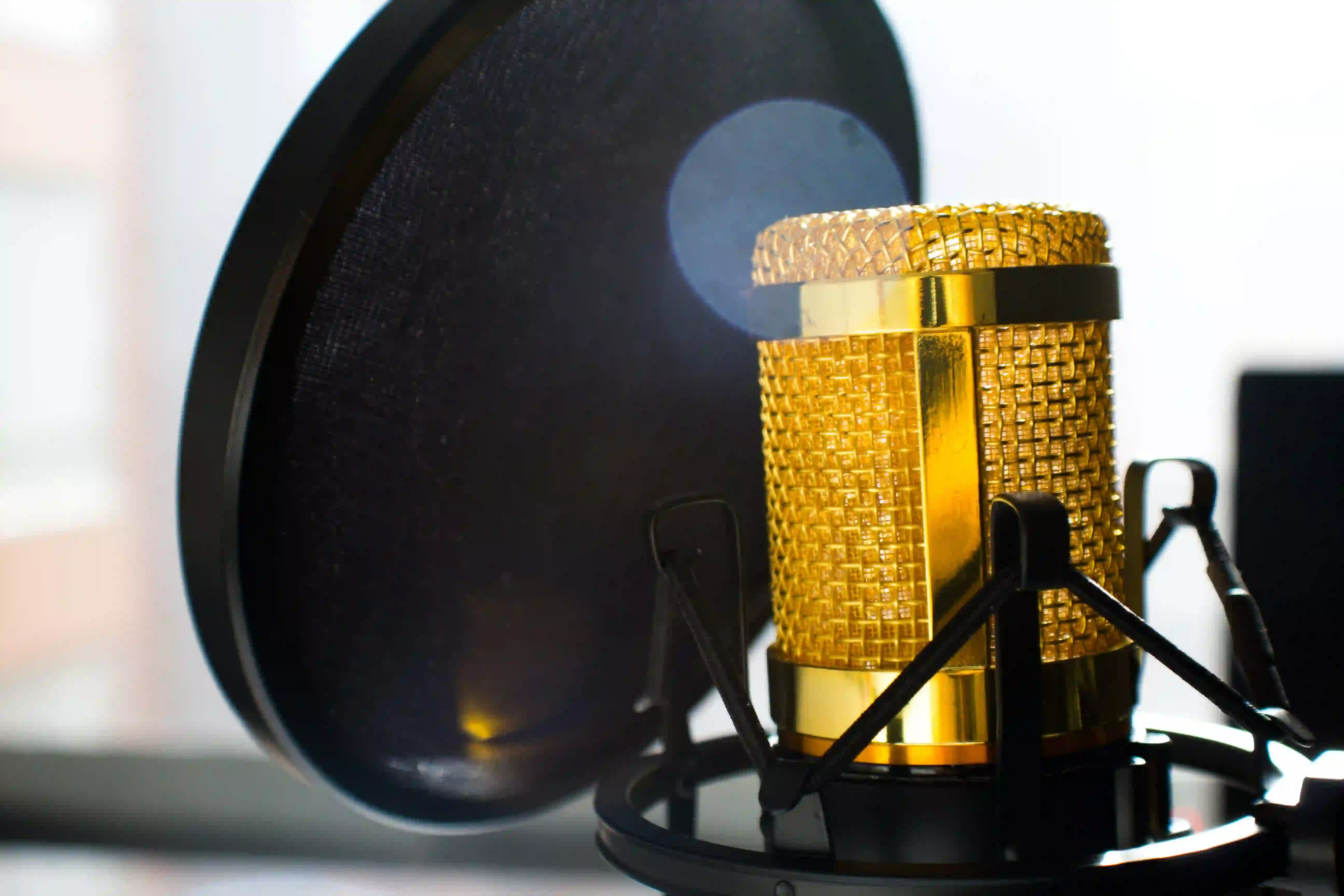 The Ultimate Guide to Podcasting Equipment: From Basics to Advanced Gear
Published: 15.04.2023 | Podcasting Audio Equipment Technology in Podcasting Content Creation 
Introduction to Podcasting Equipment
In the world of podcasting, having the right equipment is essential to produce a quality show. Podcasting equipment varies widely in type and complexity, but understanding the basics is crucial for anyone looking to start or improve their podcast. From microphones to mixers, each piece of gear plays a vital role in the audio quality and overall listener experience. In this guide, we'll explore the various components of podcasting equipment, offering insights into what's needed to create a successful podcast.
Essential Podcasting Gear for Beginners
Starting a podcast can be an exciting venture, and having the right gear is the first step towards creating great content. Here's a list of essential podcasting equipment for beginners:
Microphones: A good quality microphone is non-negotiable in podcasting. It's the primary tool for capturing clear and crisp audio. USB microphones are a great option for beginners due to their ease of use and affordability.
Headphones: Quality headphones are important for monitoring audio during recording and editing. They help you catch and fix issues like background noise or audio levels.
Recording Software: You'll need software to record and edit your podcast. Beginners can start with free or low-cost options like Audacity or GarageBand.
Pop Filter: A pop filter reduces plosive sounds (like 'p' and 'b') that can cause spikes in audio. It's a small investment that can significantly improve your audio quality.
Basic Mixer or Audio Interface (Optional): For more control over your audio, consider a basic mixer or audio interface. This is particularly useful if you have multiple hosts or guests.
With these key pieces of podcasting gear, beginners can start recording high-quality audio for their podcasts.
Microphones: The Heart of Podcasting
Choosing the right microphone is critical in determining the sound quality of your podcast. There are several factors to consider when selecting a microphone:
Types of Microphones: The two main types of microphones used in podcasting are dynamic and condenser microphones. Dynamic microphones are less sensitive and better suited for noisy environments, while condenser microphones capture more detail and are ideal for controlled studio settings.
USB vs. XLR Microphones: USB microphones plug directly into your computer and are easier for beginners to use. XLR microphones require an audio interface or mixer but offer better sound quality and more flexibility.
Polar Patterns: The polar pattern of a microphone determines how it picks up sound. Cardioid microphones, which pick up sound primarily from the front, are typically recommended for podcasting.
Budget Considerations: Microphone prices vary widely. It's possible to get a good quality microphone without breaking the bank. Popular choices for beginners include the Audio-Technica ATR2100x-USB and the Blue Yeti.
Additional Accessories: Consider getting a microphone stand, shock mount, and windscreen or pop filter. These accessories help reduce handling noise and protect your microphone from plosives and wind interference.
Your choice of microphone significantly impacts the quality of your podcast, making it one of the most important pieces of podcasting equipment to invest in.
Headphones: Monitoring Your Audio
Choosing the right headphones is crucial in podcasting for monitoring audio quality during recording and editing. Here's what to consider when selecting headphones for your podcasting kit:
Closed-Back vs. Open-Back Headphones: Closed-back headphones are preferable for podcasting as they prevent sound leakage, which is vital during recording to avoid feedback into the microphone. Open-back headphones, though offering better sound quality, are more suited for mixing and editing.
Comfort and Fit: Since podcasting can involve long recording sessions, choose headphones that are comfortable to wear for extended periods. Look for adjustable headbands and cushioned ear cups.
Sound Quality: Good headphones should provide clear, balanced sound without excessive bass or treble. This accuracy is important for correctly assessing your audio.
Durability: Consider the build quality of the headphones. Durable headphones will withstand regular use and are a better long-term investment.
Price Range: Headphones come in various price ranges. While you don't need the most expensive pair, investing in a decent set can make a significant difference in your podcasting experience.
Popular Choices: Some popular choices among podcasters include the Audio-Technica ATH-M50x, Sony MDR-7506, and Sennheiser HD 280 Pro.
Investing in a good pair of headphones is essential for producing high-quality podcast content, as it ensures that you can accurately monitor and edit your audio.
Mixers and Audio Interfaces: Managing Sound Quality
To achieve professional sound quality in your podcast, understanding the role of mixers and audio interfaces is key. They allow for greater control over audio inputs and outputs, making them invaluable in a podcasting gear setup.
Purpose of Mixers: Mixers allow you to combine audio from multiple sources, adjust levels, and add effects. They are ideal for podcasts with multiple hosts or guests.
Benefits of Audio Interfaces: Audio interfaces are crucial for converting microphone signals into a digital format for recording. They provide better sound quality compared to built-in computer audio inputs.
Choosing Between Mixers and Interfaces: Your choice depends on your podcast format. Solo podcasters or those who don't require much audio manipulation can opt for a simple audio interface. Mixers are better suited for more complex setups.
Recommended Products: For beginners, the Focusrite Scarlett 2i2 is a popular audio interface, while the Yamaha MG10XU is a great entry-level mixer.
Connectivity: Ensure that the mixer or interface you choose is compatible with your computer and other equipment.
Budget Considerations: Prices vary, so consider your budget and the specific needs of your podcast when choosing.
Whether you choose a mixer or an audio interface, these tools can significantly enhance the audio quality of your podcast, giving you more control over your sound.
Recording Software: Capturing Your Podcast
Recording software, also known as Digital Audio Workstations (DAWs), is essential in capturing and editing your podcast. Selecting the right software is crucial for efficient podcast production.
User-Friendly Options: For beginners, user-friendly software like Audacity (free) and GarageBand (for Mac users) are great starting points. They offer basic recording and editing features.
Advanced Software: More advanced podcasters might prefer software with additional features. Adobe Audition, Logic Pro X, and Reaper offer more in-depth editing capabilities.
Ease of Use vs. Functionality: Balance ease of use with the functionality you need. While advanced software offers more features, it can also have a steeper learning curve.
Compatibility: Ensure the software is compatible with your operating system and other podcasting equipment.
Trial Versions: Many DAWs offer free trials. Test out a few to see which one suits your workflow and podcasting style best.
Community and Support: Consider the community and support available for the software. Online tutorials, forums, and customer support can be invaluable resources, especially for beginners.
The right recording software can streamline your podcasting process, making it easier to produce high-quality content consistently.
Soundproofing and Acoustic Treatment
Soundproofing is an often overlooked aspect of setting up a podcasting space. Good soundproofing ensures that your recordings are free from unwanted noise and echoes.
Importance of Soundproofing: Soundproofing minimizes external noise and room echo, which can greatly affect the audio quality of your podcast.
Simple Soundproofing Techniques: Start with basic techniques like sealing gaps in doors or windows and using heavy curtains or carpets to absorb sound.
Acoustic Panels: Installing acoustic panels on walls can significantly reduce echo. These panels are available in various sizes and materials.
DIY Solutions: For a budget-friendly option, consider DIY solutions like hanging blankets or setting up a makeshift booth with pillows and cushions.
Professional Solutions: If your budget allows, professional soundproofing solutions can provide the best results, especially for studios in noisy environments.
Room Selection: Choose the quietest room in your home or office for recording. Smaller rooms with less reflective surfaces are generally better for soundproofing.
Soundproofing is a crucial step in creating a professional podcasting environment. Even basic soundproofing efforts can lead to noticeable improvements in your audio quality.
Portable Podcasting Kits: Podcasting on the Go
For podcasters who need mobility or prefer to record in various locations, portable podcasting kits are invaluable. Here's what to look for in a portable podcasting kit:
Essential Components: A good portable podcasting kit should include a compact microphone, a portable audio recorder, and quality headphones. Some kits also come with a small mixer or interface.
Microphone Type: Consider a dynamic microphone for portable kits, as they are more durable and better at minimizing background noise compared to condenser microphones.
Recorder Quality: Choose a recorder that offers high-quality audio recording and sufficient storage. Recorders like the Zoom H4n or H6 are popular among mobile podcasters.
Compact and Durable Design: Portability means equipment will be regularly transported, so durability is key. Look for gear that can withstand travel and frequent handling.
Power Source: Check the power requirements of your equipment. Battery-powered or USB-powered devices are more convenient for on-the-go recording.
Ease of Setup: The kit should be easy to set up and break down, allowing you to quickly start recording whenever inspiration strikes.
Budget Considerations: Portable podcasting kits vary in price, so consider your budget while ensuring you don't compromise on the quality of the essential components.
Portable podcasting kits offer the flexibility to record high-quality podcasts anywhere, making them an excellent option for dynamic podcasters.
Advanced Podcasting Gear for Professionals
As podcasting skills and ambitions grow, investing in more advanced gear can significantly enhance the quality and production value of your podcast. Here are key considerations for upgrading your podcasting equipment:
High-End Microphones: Consider investing in higher-end microphones for superior sound quality. Brands like Shure, Rode, and Heil offer professional-grade microphones that can elevate your audio.
Advanced Mixers and Interfaces: Advanced mixers and audio interfaces provide more control and flexibility in managing multiple audio sources. Look for features like multiple inputs, onboard effects, and routing options.
Professional Headphones: Upgrading to professional-grade headphones can improve audio monitoring accuracy. Models from brands like Sennheiser and Beyerdynamic are worth considering.
Enhanced Recording Software: Consider advanced DAWs like Adobe Audition or Logic Pro X for more robust editing and production capabilities.
Additional Accessories: Investing in additional accessories like boom arms, shock mounts, and higher-quality cables can improve the recording experience and audio quality.
Acoustic Treatment: For podcasters with a dedicated recording space, professional acoustic treatment can greatly reduce unwanted reverb and echo, ensuring pristine audio quality.
Upgrading to professional podcasting gear involves significant investment, but it can take your podcast to the next level in terms of audio quality and production value.
Integrating Smart Technology and AI in Podcasting Gear
The integration of smart technology and AI in podcasting gear is reshaping the podcasting landscape, offering new tools and efficiencies. Here's how AI and smart technology are influencing podcasting equipment:
AI-Powered Editing Software: Tools like Descript use AI to transcribe and edit audio, allowing podcasters to edit audio files as easily as text documents. This can significantly reduce editing time and effort.
Voice Enhancement Technology: AI-driven technology can enhance voice quality, remove background noise, and even out audio levels, leading to cleaner and more professional-sounding recordings.
Automated Content Creation: AI tools can assist in content creation, offering suggestions for topics, scripts, and even generating voiceovers.
Smart Mixers and Interfaces: Newer mixers and interfaces are incorporating smart features like automated level adjustments and presets for different recording scenarios, simplifying the recording process.
Remote Recording Solutions: AI and cloud-based technologies enable high-quality remote recording, allowing podcasters to easily record and collaborate with guests from anywhere in the world.
Challenges and Opportunities: While these technologies offer exciting possibilities, podcasters must also navigate challenges like maintaining authenticity and understanding the ethical implications of AI-generated content.
Embracing smart technology and AI in podcasting gear can greatly enhance the efficiency and quality of podcast production, keeping podcasters at the forefront of technological advancements in the field.
Building Your Custom Podcasting Kit
Creating a podcasting kit that suits your specific needs is crucial for producing a high-quality podcast. Here's how to build a personalized kit:
Assess Your Needs: Consider the type of podcast you are creating. Will you be recording solo or with guests? Do you plan to record in a studio or on the go? Your answers will determine the type of equipment you need.
Start with the Essentials: Begin with the basics – a quality microphone, headphones, and recording software. Research and select products that fit your budget and requirements.
Selecting a Microphone: Depending on your environment and recording style, choose between a dynamic or condenser microphone. USB mics are great for beginners, while XLR mics offer more quality and flexibility.
Recording Software: Choose software that matches your technical skills. Beginners can opt for user-friendly options like Audacity, while more experienced podcasters might prefer Adobe Audition or Logic Pro.
Adding Accessories: Include accessories like pop filters, mic stands, and shock mounts to improve your recording experience and audio quality.
Consider Portability: If you plan to record on the go, look for portable recorders, lavalier mics, and compact mixers or interfaces.
Upgrading Over Time: As you grow in podcasting, gradually upgrade your equipment. Investing in higher-end microphones, advanced mixers, and professional editing software can significantly enhance your podcast quality.
Your podcasting kit should evolve with your podcast, adapting to changes in your format and the growing needs of your production.
Integrating Smart Technology in Podcasting
The integration of smart technology in podcasting is revolutionizing the way podcasts are created and consumed. Here's a look at how smart technology is impacting podcasting:
Automated Editing Tools: Tools like Descript use AI to offer automated editing, making the process faster and more efficient for podcasters.
Smart Mixers and Interfaces: New mixers and interfaces with smart features automate many technical aspects of recording, making it easier for beginners to achieve high-quality audio.
Voice Recognition and AI-Assisted Content Creation: AI tools can assist in content creation, generating scripts, and even creating synthetic voiceovers, expanding the possibilities for podcasters.
Data Analytics and Audience Insights: Smart analytics tools provide podcasters with detailed insights into their audience, helping to tailor content more effectively.
Cloud-Based Collaboration Tools: Cloud technology enables seamless remote collaborations, allowing podcasters to record and produce podcasts with guests from anywhere in the world.
Challenges of Smart Technology: While smart technology offers many benefits, podcasters should also be aware of the challenges, including maintaining authenticity and the potential over-reliance on AI tools.
Staying abreast of advancements in smart technology can help podcasters leverage these tools to enhance their production process and audience engagement.
Building a Sustainable Podcasting Practice
Sustaining a successful podcast over time requires more than just the right equipment; it involves a combination of good practices, content consistency, and audience engagement:
Regular Content Creation: Consistently producing and releasing episodes is key to keeping your audience engaged. Develop a content calendar and stick to a regular publishing schedule.
Audience Interaction: Actively engage with your audience through social media, email, and listener surveys. Their feedback can provide valuable insights into your content and help build a loyal community.
Ongoing Learning and Improvement: The podcasting industry is continually evolving. Stay informed about the latest trends, tools, and best practices in podcasting.
Networking and Collaboration: Connect with other podcasters to share experiences, tips, and potential collaboration opportunities. Networking can open doors to new ideas and audience growth.
Diversifying Content: Experiment with different formats and topics to keep your content fresh and appealing. Consider special episodes, guest interviews, or crossover episodes with other podcasters.
Self-Care and Burnout Prevention: Podcasting can be demanding. Ensure you take breaks, delegate tasks when possible, and maintain a healthy work-life balance to prevent burnout.
Building a sustainable podcasting practice involves continuous effort in content creation, audience engagement, and personal well-being.
Conclusion: The Journey in Podcasting
The journey in podcasting is an exciting and evolving one. With the right podcasting equipment, a commitment to quality content, and an openness to embracing new technologies, anyone can start and grow a successful podcast.
Recap of Key Points: We've covered the essentials of podcasting equipment, from microphones and headphones to mixers and recording software. We've also explored the impact of smart technology and the importance of building a sustainable podcasting practice.
Encouragement for Podcasters: Whether you're a beginner or an experienced podcaster, remember that your unique voice and content are what make your podcast special. Continue to innovate, learn, and engage with your audience.
Final Thoughts: The world of podcasting is dynamic and offers endless possibilities. Embrace the journey, experiment with new ideas, and most importantly, enjoy the process of creating and sharing your podcast with the world.
Podcasting is a medium that continues to grow and inspire. With passion, the right gear, and a commitment to quality, the podcasting journey can be an incredibly rewarding experience.
Exploring more
Read more about podcast equipment, microphones, and cameras: