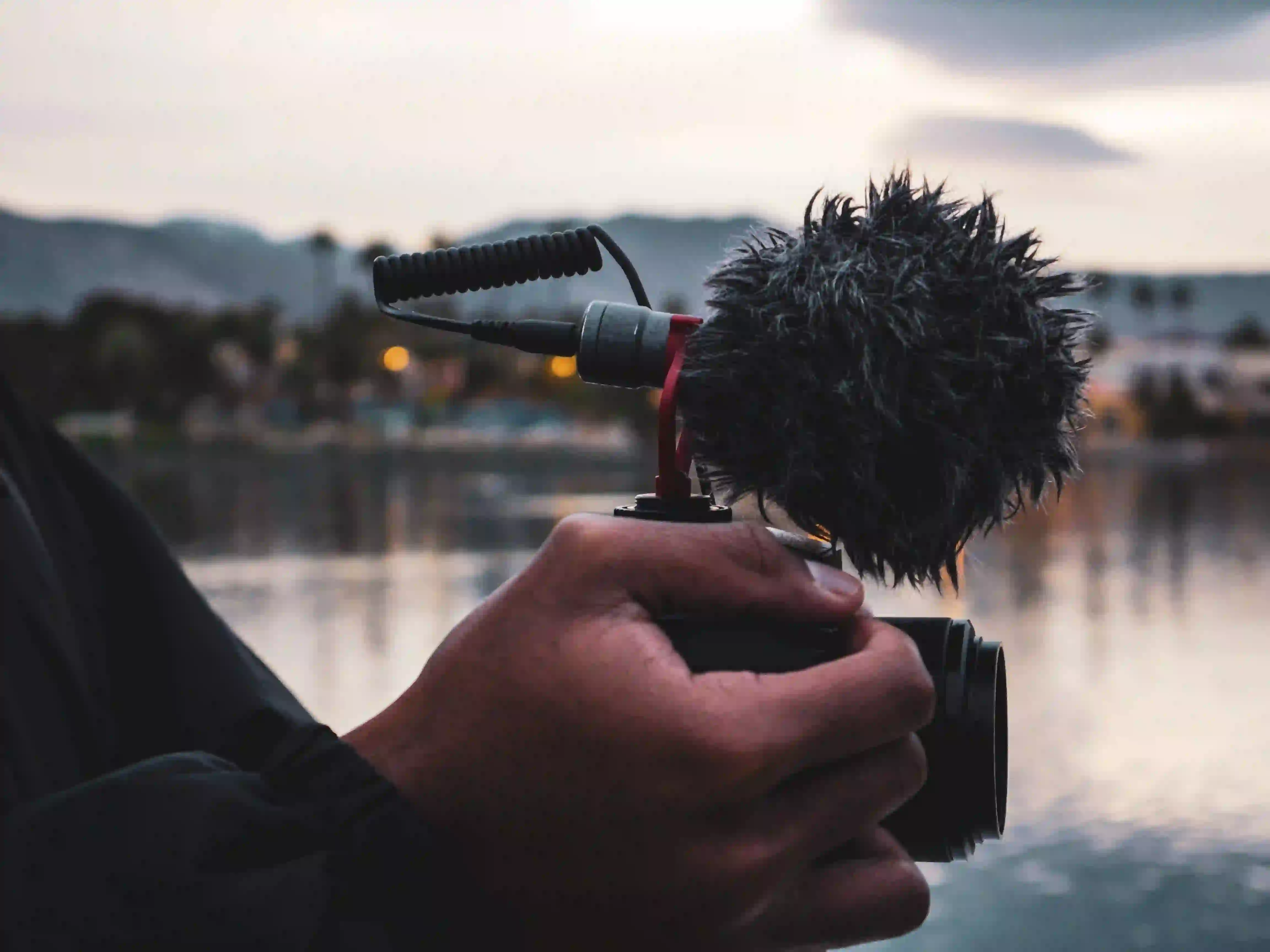 Essential Podcasting Equipment: Microphones and Cameras for Quality Production
Published: 10.04.2023 | Podcasting Audio Equipment Video Production Content Creation 
Introduction to Podcasting Microphones and Cameras
The world of podcasting has expanded rapidly, and with it, the need for quality equipment to produce engaging content. Among the most essential tools for any podcaster are the podcasting microphone and camera. The right microphone ensures clear, professional audio quality, while a good camera is indispensable for those who venture into video podcasting. This guide delves into the specifics of choosing and utilizing these crucial pieces of podcasting gear, providing insights into how they can significantly enhance the quality of your podcast.
Choosing the Right Podcasting Microphone
Selecting the right microphone is a critical decision for any podcaster. The microphone is, after all, the primary tool for capturing the essence of your podcast - your voice. Here's what you need to consider when choosing a podcasting microphone:
Understanding Microphone Types
Dynamic Microphones: Known for their durability and ability to handle high sound pressure levels, dynamic microphones are excellent for recording in less-than-ideal acoustic environments.
Condenser Microphones: These microphones are more sensitive and provide a higher audio quality, making them ideal for studio settings. They are perfect for capturing subtle nuances in voice.
USB vs. XLR Microphones: USB microphones are convenient and easy to use, making them a great choice for beginners. XLR microphones, on the other hand, offer better sound quality and versatility but require additional equipment like an audio interface.
Consider Your Recording Environment
The environment where you record plays a significant role in microphone selection. If you're recording in a controlled studio environment, a condenser microphone might be the best choice. In contrast, for on-location recordings, a dynamic microphone's robustness can be beneficial.
Budget and Brand Preferences
Microphone prices vary widely. While it's tempting to opt for cheaper options, investing in a good quality microphone can significantly improve your podcast's audio quality.
Popular brands like Shure, Audio-Technica, and Rode offer a range of microphones catering to different podcasting needs and budgets.
Understanding these aspects will help you choose a podcasting microphone that meets your specific needs, ensuring clear and professional audio quality for your podcast.
Top Microphones for Podcasting
With a plethora of options available, selecting the right podcasting microphone can be overwhelming. Here's a list of some top microphones that are favored by podcasters:
Audio-Technica ATR2100x-USB
Type: Dynamic
Connectivity: USB and XLR
Why It's Great for Podcasting: The ATR2100x-USB's versatility in connectivity and its excellent sound quality make it a favorite among both beginner and experienced podcasters.
Shure SM7B
Type: Dynamic
Why It's Favored: Known for its smooth, flat, wide-range frequency response appropriate for both music and speech, the SM7B is a staple in many professional podcasting studios.
Rode NT-USB
Type: Condenser
Connectivity: USB
Ideal Use: This microphone is perfect for podcasters who want studio-quality recording with the convenience of USB connectivity.
Blue Yeti
Type: Condenser
Connectivity: USB
Features: Offering multiple pattern settings (cardioid, bidirectional, omnidirectional, and stereo), the Blue Yeti is versatile and ideal for podcasters who record in various formats.
Heil PR-40
Type: Dynamic
Why Podcasters Love It: The Heil PR-40 features a wide frequency range and excellent sound isolation, making it an excellent choice for professional-quality podcasts.
Each of these microphones brings something unique to the table. Your choice will depend on your podcasting needs, the recording environment, and your budget.
Setting Up Your Podcasting Microphone
Proper setup of your podcasting microphone is crucial for achieving the best audio quality. Here are some key steps and tips for setting up your microphone:
Room Acoustics: Choose a quiet room with minimal echo. Soft furnishings can help absorb sound and improve acoustics.
Microphone Placement: Position the microphone about six inches from your mouth. Use a boom arm or mic stand for stability and flexibility.
Pop Filter Placement: Place a pop filter between you and the microphone to reduce plosive sounds like 'p' and 'b'.
Test Recordings: Before starting your actual recording, do a few test recordings to check for any background noise or audio issues.
Adjusting Levels: Set the correct input levels on your recording software. The levels should be high enough to capture your voice clearly without causing distortion.
Using Headphones: Always use headphones during recording to monitor audio quality and prevent echo from speakers.
Back-Up Recording: If possible, record a backup track using a separate device as a precaution against technical failures.
Setting up your podcasting microphone correctly is a vital step towards professional-sounding podcast episodes.
Microphone Accessories for Enhanced Audio Quality
To further enhance the audio quality of your podcast, consider these essential microphone accessories:
Shock Mount: A shock mount isolates the microphone from vibrations and handling noise. This is particularly important for sensitive condenser microphones.
Boom Arm: A boom arm allows for flexible positioning of the microphone and helps keep your desk clutter-free.
Acoustic Shields: For extra sound isolation, especially in untreated rooms, an acoustic shield can be placed around the microphone to block unwanted noise.
Windscreen: If you record in an environment with potential wind or breath noise, a windscreen can be placed over the microphone to reduce these disturbances.
Cables and Connectors: Invest in high-quality cables and connectors to ensure clear signal transmission from your microphone to the recording device.
Carrying Case: If you travel with your podcasting gear, a durable carrying case is essential to protect your microphone and accessories.
These accessories can significantly improve the recording experience and the overall quality of your podcast audio.
Introduction to Podcasting Cameras
For video podcasting or vlogging, the choice of camera plays a pivotal role in the visual quality of your content. Here's an introduction to podcasting cameras:
Camera Types for Podcasting: The range of cameras suitable for podcasting includes DSLRs, mirrorless cameras, and high-quality webcams. Each type offers different features and levels of video quality.
DSLRs and Mirrorless Cameras: These cameras provide high-quality video and versatility in lens selection but can be more expensive and require some technical knowledge.
Webcams: High-end webcams are a more budget-friendly option and are easy to use, making them ideal for those just starting with video podcasting.
Factors to Consider: When choosing a camera, consider video resolution (at least 1080p), autofocus capabilities, low-light performance, and ease of use.
Audio Syncing: Remember, if you record audio and video separately, you'll need to sync them in post-production. Some cameras offer in-built microphones as a backup or reference track.
Lighting and Composition: Good video quality isn't just about the camera. Proper lighting and thoughtful composition are equally important.
Choosing the right camera can elevate the visual appeal of your podcast and help you engage more effectively with your audience.
Best Cameras for Video Podcasting
Selecting the best camera for your video podcast depends on various factors including budget, technical skills, and the type of content you produce. Here are some top recommendations:
Canon EOS M50: A versatile and user-friendly mirrorless camera, great for both beginners and experienced users. It offers excellent video quality and a flip screen for easy framing.
Sony A6400: Known for its fast autofocus and superior image quality, the A6400 is a solid choice for professional-quality video podcasts.
Panasonic Lumix GH5: A favorite among video professionals, the GH5 excels in video performance with features like 4K recording and image stabilization.
Logitech BRIO: An advanced webcam option, offering 4K resolution and easy setup, perfect for podcasters who prefer a simpler, more compact setup.
GoPro HERO Series: For action-oriented or on-the-go video podcasts, GoPros offer portability and robust performance.
Budget Considerations: While high-end cameras offer more features, there are also many mid-range and budget options that can produce quality video for podcasting.
Each of these cameras brings something unique to the table, catering to different styles and requirements of video podcasting.
Optimizing Camera Setup for Podcasting
Setting up your podcasting camera correctly is as crucial as choosing the right camera. Here's how to optimize your camera setup for professional-looking video podcasts:
Camera Positioning: Position your camera at eye level to create a more engaging and natural connection with your audience. If using multiple cameras, vary the angles to add dynamism to your video.
Lighting: Good lighting is key to high-quality video. Use a combination of natural light and softbox lights or ring lights to evenly light your face and avoid harsh shadows.
Background and Framing: Choose a background that is not distracting but adds to the aesthetic of your podcast. Frame yourself so you're centered, with a little headroom at the top of the frame.
Testing: Before recording, do a test run to check the video quality, framing, and lighting. Adjust as necessary to ensure everything looks professional.
Focus Settings: Use manual focus if possible to lock the focus on your face, preventing the camera from refocusing during recording.
Recording Resolution: Record in at least 1080p resolution for clear and detailed video quality. If your camera supports 4K, consider using it for even higher quality.
File Management: Be mindful of the file size and format. High-resolution videos can be large, so ensure you have enough storage and backup solutions in place.
A well-set-up camera can significantly enhance the visual appeal of your podcast, making it more engaging for your audience.
Combining Audio and Video: Synchronizing Your Podcast
Synchronizing audio and video is a crucial step in producing a video podcast. Here are some tips to ensure seamless synchronization:
Clap Test: At the beginning of your recording, clap your hands once within view of the camera. This spike in audio and visual cue helps to sync the sound with the video in post-production.
Recording Software: Use software that can handle both audio and video editing. Adobe Premiere Pro, Final Cut Pro, and DaVinci Resolve are popular choices that offer robust synchronization tools.
Timecode: If your recording equipment supports it, use timecode synchronization. This embeds a timestamp in both audio and video files, making syncing easier.
Manual Syncing: In your editing software, align the audio and video tracks by matching the sound wave of the clap with the visual clap in the video.
Check for Drift: After syncing, play through your video to ensure there's no drift between the audio and video. Adjust if necessary.
Quality Check: Once synced, check the quality of both audio and video. Ensure the voice matches the speaker's lips and that there are no audio delays or echo.
Backup Audio: Always record a backup audio track on your camera. This can be useful if there are issues with your primary audio recording.
Proper synchronization of audio and video is essential for maintaining professionalism and ensuring that your video podcast is engaging and easy to follow.
Advanced Podcasting Equipment: Upgrading Your Setup
As you grow in your podcasting journey, you might consider upgrading to advanced equipment to further enhance the quality of your podcast:
High-Quality Microphones: Consider investing in higher-end microphones for better sound quality. Microphones like the Shure SM7B or the Electro-Voice RE20 are popular among professional podcasters.
Professional Cameras: Upgrade to professional-grade cameras for superior video quality. Cameras such as the Sony A7 series or Canon EOS range offer excellent video capabilities.
Advanced Lighting Setup: Explore more advanced lighting options like LED panels with adjustable color temperature and brightness for more control over your lighting setup.
Soundproofing: Invest in professional soundproofing materials or acoustic treatments for your recording space to further reduce noise and echo.
Higher-End Audio Interfaces and Mixers: For more complex audio setups, consider advanced audio interfaces and mixers that offer more inputs, effects, and control.
Video Switchers: If you're using multiple cameras, a video switcher allows you to switch between different camera angles live or during editing, adding a dynamic element to your video podcasts.
Ongoing Learning: Continuously educate yourself on new technologies and techniques in podcasting. Attend workshops, webinars, or online courses to stay updated and improve your skills.
Upgrading your podcasting equipment should be a gradual process based on your podcast's needs and your level of expertise. Each investment should be aimed at enhancing the overall quality and professionalism of your podcast.
Advanced Podcasting Equipment: Upgrading Your Setup
For podcasters looking to enhance their production quality, investing in advanced podcasting equipment is a significant next step. Here's a guide to upgrading your podcasting setup:
High-End Microphones for Superior Audio: Consider investing in studio-quality microphones like the Neumann U87 or Shure SM7B to capture pristine audio.
Professional Cameras for Crisp Video: Upgrading to cameras like the Canon EOS R5 or Sony A7S III can vastly improve the visual quality of your video podcasts.
Advanced Audio Interfaces: Look for interfaces with multiple inputs, high-quality preamps, and low-latency monitoring, such as those from Universal Audio or Focusrite.
Mixers for Multi-Person Podcasts: For podcasts with multiple hosts or guests, advanced mixers like the RODECaster Pro offer multiple channels, onboard processing, and easy integration with phone calls.
Enhancing Video Production: Incorporate tools like gimbals, sliders, and professional lighting kits to elevate your video production values.
Upgrading Editing Software: Transition to more robust editing suites like Adobe Premiere Pro or Final Cut Pro for video and Pro Tools or Logic Pro for audio to unlock greater editing capabilities.
Investing in advanced equipment can significantly boost the production quality of your podcast, making it more appealing to a wider audience.
DIY Podcasting Equipment Solutions
Not all podcasting equipment needs to be expensive. Here are some DIY solutions that can save money while still delivering quality results:
Homemade Pop Filters: Create your own pop filter using pantyhose stretched over a wire hanger to reduce plosives in your recordings.
DIY Soundproofing: Use household items like blankets, pillows, and foam mattresses to create a makeshift sound booth for improved acoustics.
Building a Mic Stand: If you're handy, construct your own microphone stand using PVC pipes or repurposed materials.
Improvised Lighting for Video: Utilize natural light effectively or create your own lighting setup using LED strips or affordable ring lights.
Utilizing Smartphones: Smartphones with good quality cameras can be a great starting point for video podcasting, paired with a tripod and an external microphone.
Software Alternatives: Explore free or low-cost software options like Audacity for audio editing and DaVinci Resolve for video editing.
These DIY solutions can be both fun and effective, offering a sense of accomplishment and a personalized touch to your podcasting setup.
Maintaining and Caring for Your Podcasting Equipment
Proper maintenance of your podcasting equipment ensures its longevity and optimal performance. Here are some tips for taking care of your gear:
Regular Cleaning: Dust and clean your equipment regularly, especially microphones and cameras, to keep them in good working condition.
Proper Storage: Store your equipment in a dry, dust-free environment. Use padded cases or bags for delicate items like microphones and cameras.
Cable Management: Store cables coiled properly to avoid kinks and damage. Use cable ties or wraps to keep them organized.
Handling with Care: Handle all equipment, especially the more delicate items like microphones and cameras, with care to avoid drops and impacts.
Firmware and Software Updates: Keep your equipment's firmware and any associated software up to date to ensure they function efficiently.
Regular Checks: Periodically test all your equipment to identify any issues or potential failures early.
Taking good care of your podcasting equipment not only prolongs its life but also ensures that it always performs at its best.
Conclusion: The Journey in Podcasting
Podcasting is a continually evolving medium, with the potential to reach a global audience. Whether you're just starting or looking to upgrade your setup, the right podcasting microphone and camera can significantly impact the quality of your content.
Recap of Key Points: We've explored the various aspects of choosing and utilizing podcasting microphones and cameras, from basic setups for beginners to advanced equipment for seasoned podcasters.
Empowerment Through Knowledge: Understanding your equipment empowers you to produce the best possible content. We encourage you to keep learning and experimenting with different setups to find what works best for you.
Final Encouragement: Remember, the most important aspect of podcasting is your passion and the unique perspective you bring to your audience. The right equipment simply helps you share your voice more clearly and professionally.
As you continue your podcasting journey, embrace the challenges and opportunities that come with it. With the right approach and equipment, you can create a podcast that resonates deeply with your listeners.
Exploring more
Read more about podcast equipment, microphones, and cameras: