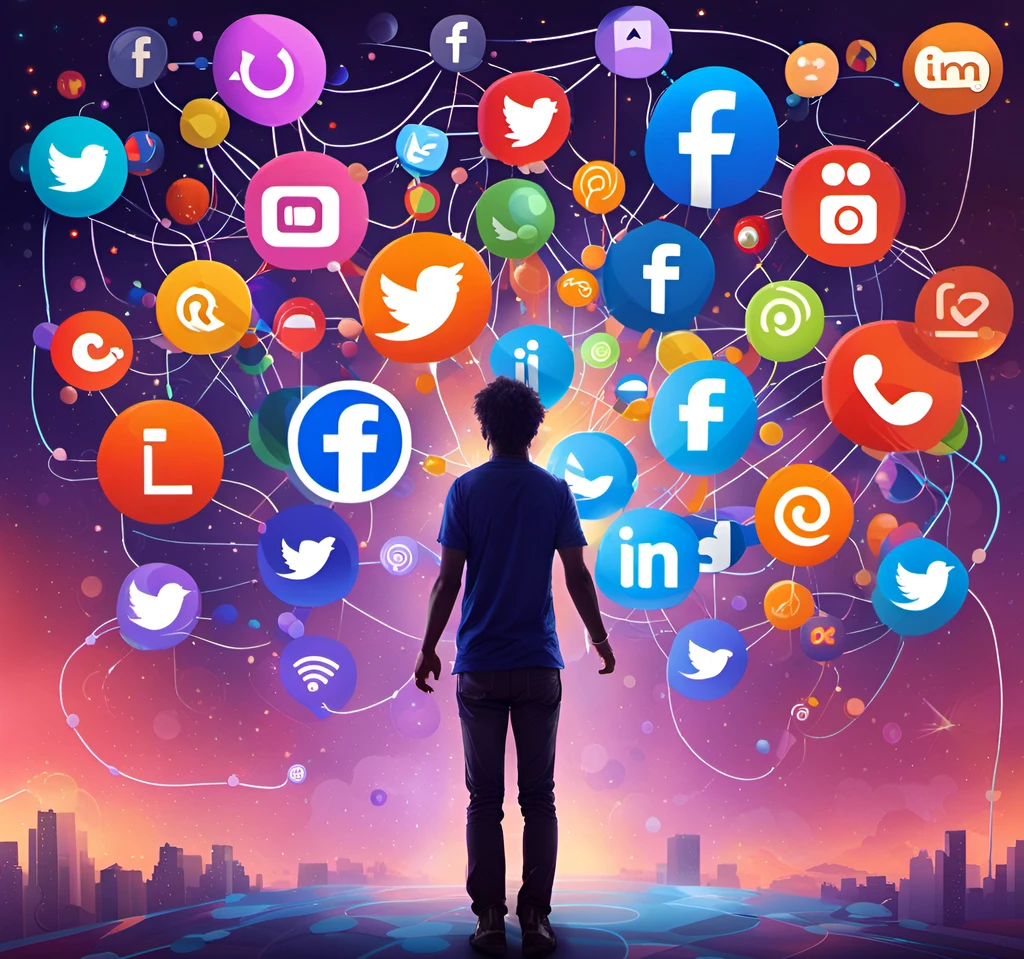 How to Use Social Media for Podcast Growth: Your Easy-to-Follow Guide
Published: 28.07.2023 | Podcast Marketing 
The past few weeks I have talked about the benefits of transcripts, show notes, and a SEO optimised title on your reach. This week I will add another important variable to your grow equation: Social media - one of the best social media management tools for your podcast.
Why Social Media Engagement is Essential
Many people are not aware of the importance of social media posts, even though it seems to be at the heart of podcasting: Building an audience and connecting with people. Your listeners want to be entertained when they listen to you. You are the person they have chosen to spend the next 20 to however long your podcast is going to last with. So it makes sense that they want to be entertained during that time. Why not entertain them more often? It's you and your subject matter that people want to hear about. Think of them as fans, maybe that will help you see the bigger picture here. A logical reasoning would be that a fan likes to be entertained by the superstar. That's where social posting, especially repurposing podcast content for social media posts, enters the stage.
Common Concerns & The Solution
"I don't have time," "I'm not comfortable on social media," "I already work and produce a podcast," - these are common concerns, and I completely understand. That's why I'm introducing you to a solution that can simplify this for you. I've built an app that allows you to repurpose the content of your episode and create engaging articles and social media posts tailored to your needs. It's like having your own little social media management tool for your podcast and social media in one place. Along with an article it comes with three different tweets (or X's) that you can use to post to Twitter/X. Try it out here: Podcast2Social 🐰⬅️
Note: What started as a free tool has been integrated into LemonSpeak, providing a seamless flow for you. You can find it here: LemonSpeak
Building and Connecting with Your Audience
Let me pick up where I left off: Connect with your audience. If you don't already have one, try to find one. Try to connect with them on social media so they can see the content you share. People are friends with other people who usually have something in common. This means your chances are pretty good, or at least better than with a random person, that your listener's friends will like your content too. And that was your first step in building your audience.
How to Create Custom Content & Choosing Your Style
This tool not only generates content but also provides options to customize it. Choose your style - from professional to casual, academic to storytelling, Op-Ed to FAQ. Here's an excerpt:
Storytelling: Transforms the podcast's main points into a narrative with characters, settings, conflicts, and resolutions.
Professional: Uses clear, concise, and formal language in a well-structured format.
Academic: Makes the article read like a scholarly paper, suitable for educational or research-based podcasts.
Op-Ed: Presents the podcast's key points as an opinion piece with a clear stance.
Casual: Adopts a friendly, approachable tone marked by informal language, personal anecdotes, and humor.
Personal Letter: Writes the article like a personal letter, sharing insights from the podcast.
FAQ: Presents the content as a series of FAQs, useful for instructional or educational podcasts.
Personal Branding 🔥 [Needs LemonSpeak Transcript]: Reflects the speaker's individual brand, incorporating the speaker's values, interests, and personality.
Creating a Personal Brand
The Personal Branding style is by far the most powerful. This style mimics the speaker's language and perspective, offering a personal touch to your content - like having your content creator niche served with a unique voice. This makes the engagement more personal and helps you identify with the content. Starting to post on social media platforms will feel intimidating at first, but you will get used to it. For personal branding you will need a transcript from LemonSpeak.
The Importance of Pre-Production Engagement
Now, we're discussing post-production, but what about the actual production phase or even the planning stages? Want to know how to make your podcast go viral? Start by engaging your audience, ask them what they'd love to hear, or conduct a quick poll. That's engagement and promoting your podcast at the same time without paying a penny. Well, you pay with your time, which is very valuable. That's why I created this service for you. In the beginning, you may need to tweak the content here and there because you are not used to it. But even then, tweaking a piece of content for five minutes compared to writing a whole article plus social media posts on LinkedIn, Twitter and Instagram, which costs you at least a day, is a huge gain for your productivity. If you're wondering where I came up with the very specific figure of one day: I usually need at least 1.5 days.
Currently, one article will be created. Each platform you want to post to has its own style, making it difficult to write a generic blog post. Ideally, you would need to tailor the article to the platform, but not with my tips.
Optimizing Your Podcast SEO: Action Steps
I'll give you some time-saving action steps for your podcast SEO:
Post the generated article on your website, turning your podcast into a written piece. This is a critical step in driving organic search to your podcast. It also serves as a home for your transcripts and show notes.
Share your articles in spaces where your audience frequents, like Facebook groups, Reddit, Discord servers, or Slack workspaces. Each tweet you share can also be leveraged in these channels. This way you do not need to adapt your article to the platform.
When you post an article or a tweet, make sure you tag relevant people, guests or topics. This will give you further reach. Include a compelling CTA encouraging readers to check out your blog post.
Aim to transform your followers into ambassadors by actively engaging with them.
Another great blog post which elaborates on SEO can you find here: The Comprehensive Guide to Podcast Transcripts: Enhancing Accessibility and Reach
Drafting an Effective Tweet: A Template
Here's a quick tweet template for you:
🎙️ Excited to share my latest article on [topic X]! 📝📢 Did you know that [interesting fact about your episode]? Discover key takeaways from my latest podcast episode and dive deeper into the discussion. Check it out here: [insert link] #Podcast #Article #Guest #Theme
Guidance for Newbie Podcasters: Measuring Success, Content Preferences & Balancing Tasks
For those new to podcasting:
To measure your social media efforts' success, consider tracking metrics like engagement rate, click-through rate, follower growth, and shares. Tools like Google Analytics, Buzzsumo, and Sprout Social can be handy.
Content preference varies per platform. Twitter values concise, snappy posts, Instagram thrives on aesthetic images, while LinkedIn prefers professional and insightful content.
Post frequency depends on your audience's behavior. Generally, 1-3 posts per day is acceptable.
Balancing podcast production and social media promotion can be tricky. Prioritize tasks, delegate when possible, use social media content management tools, and try to automate processes where you can.
Here's another great resource from castor to help you get started: https://castos.com/how-to-grow-podcast-listeners/