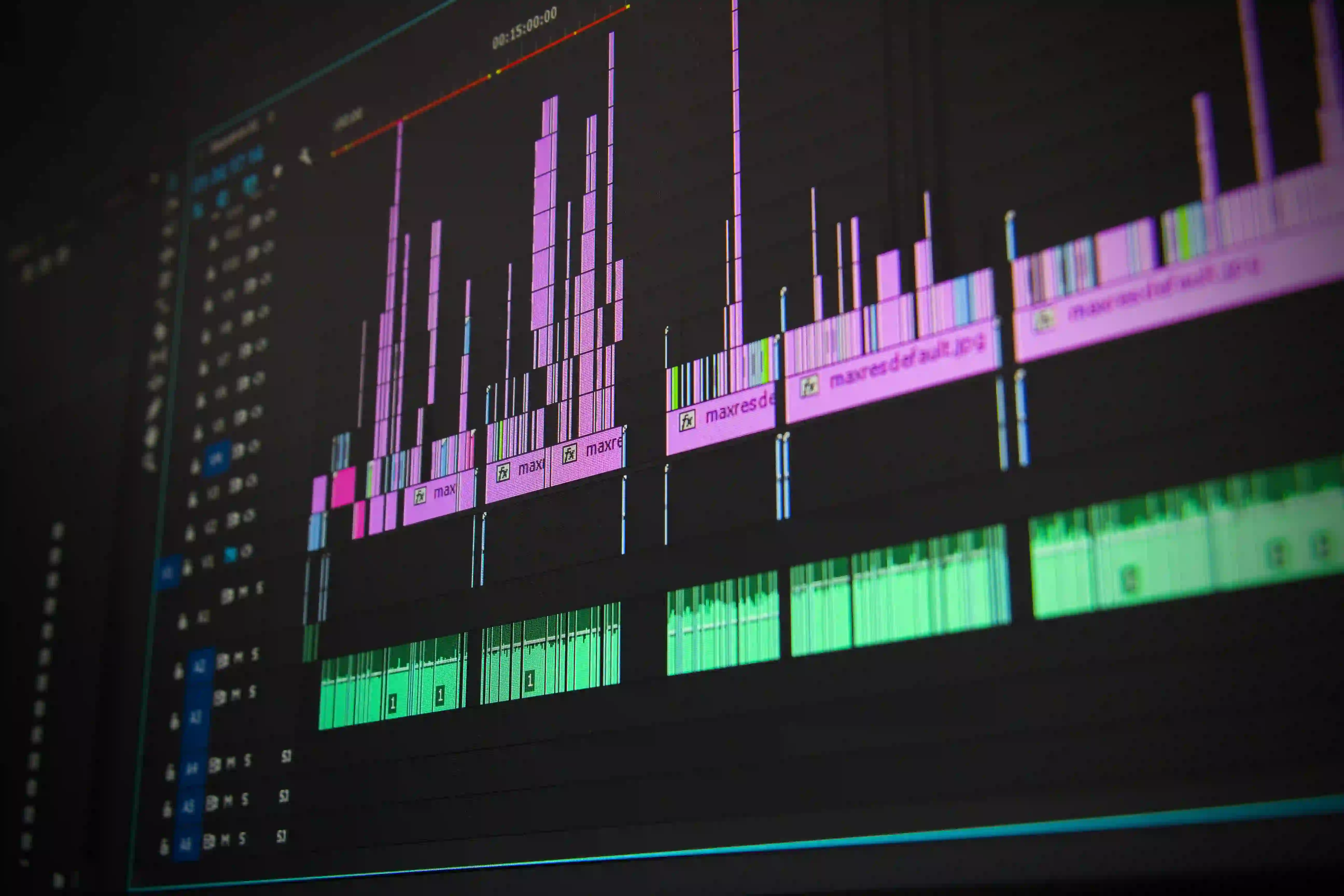 Enhancing Your Podcast's Reach with Audiograms: A Comprehensive Guide
Published: 25.04.2023 | Podcasting Content Marketing Digital Strategy Audience Engagement 
Introduction to Podcast Audiograms
In the evolving landscape of digital content, podcast audiograms have emerged as a powerful tool for enhancing audience engagement and marketing efforts. An audiogram for a podcast is a visual representation of audio content, often featuring a waveform, transcription, and images or animations. This innovative format not only captivates the audience's visual senses but also serves as an effective teaser of the podcast content, making it highly shareable on social media platforms.
The Rise of Audiograms in Podcasting
Audiograms have rapidly gained popularity among podcasters for several compelling reasons:
Enhanced Social Media Visibility: Audiograms provide a visually engaging way to share audio content on platforms that traditionally favor visual or textual content.
Accessibility: By adding transcriptions or captions to the audio, audiograms make content accessible to a wider audience, including those who are deaf or hard of hearing.
Engagement Boost: The combination of audio and visual elements in audiograms can lead to higher engagement rates compared to standard audio clips or text posts.
Marketing Advantage: Audiograms can be used as effective promotional tools to entice potential listeners, providing a sneak peek into the podcast's content.
The integration of audiograms into podcasting strategies reflects a growing recognition of the importance of multi-sensory content in reaching and engaging audiences in today's digital ecosystem.
Creating Effective Audiograms for Your Podcast
Crafting an engaging audiogram requires a thoughtful approach to ensure it effectively captures the essence of your podcast:
Selecting the Right Segment
High-Impact Moments: Choose a segment of your podcast that is particularly compelling, thought-provoking, or entertaining. This snippet should pique the interest of potential listeners.
Context Consideration: Ensure the selected audio clip can stand alone and make sense out of context, enticing listeners to seek out the full episode.
Utilizing Descript for Audiogram Creation
Descript as a Tool: Descript is a versatile software that offers an easy way to create audiograms. It allows for the integration of transcriptions and customization of waveforms and backgrounds.
Creating with Descript: To create an audiogram in Descript, import your audio file, select the segment you wish to visualize, and use the built-in tools to add transcriptions, customize the visual elements, and export the finished audiogram.
Tips for Captivating Audiograms
Visual Appeal: Use visually appealing graphics or animations that reflect the theme of your podcast or the particular episode.
Readable Transcriptions: Make sure the text in your audiogram is clear and easy to read. This enhances accessibility and allows viewers to follow along with the audio.
Brand Consistency: Incorporate your podcast's branding elements, such as logos and color schemes, to maintain brand consistency across your marketing materials.
Design Elements of an Impactful Audiogram
Creating an audiogram that captures attention and effectively conveys your podcast's essence involves thoughtful design decisions:
Visual Aesthetics
Waveform Visualization: Choose a waveform style that matches the mood of your podcast. Vibrant, dynamic waveforms are great for energetic content, while smoother, simpler waveforms suit more contemplative audio.
Color Scheme: Utilize colors that reflect your brand or the theme of the specific episode. Consistent use of colors can make your audiogram instantly recognizable.
Complementary Imagery
Background Images: Select background images or animations that complement the audio content without overwhelming it. The imagery should add context and enhance the viewer's experience.
Text and Typography: Use legible fonts for any text, including transcriptions. Ensure the font size is readable across various devices, from smartphones to desktops.
Incorporating Branding
Logo Placement: Include your podcast's logo strategically in the audiogram. This not only aids in brand recognition but also ensures viewers associate the content with your podcast.
By carefully considering these design elements, you can create podcast audiograms that are not only visually appealing but also resonate with your audience and strengthen your podcast's brand identity.
Best Practices for Audiogram Length and Content
The effectiveness of a podcast audiogram also depends on its length and content. Here's how to optimize these aspects:
Ideal Length
Short and Engaging: Aim for a length that's long enough to convey a meaningful message but short enough to maintain viewer interest. Typically, 15-30 seconds is a sweet spot for audiogram length.
Content Selection
Highlight Key Moments: Choose segments that stand out in your episode – a thought-provoking question, a funny moment, or a powerful statement.
Teaser Approach: Use the audiogram as a teaser that gives just enough to intrigue the audience and encourage them to listen to the full episode.
Call-to-Action
Directing Listeners: At the end of the audiogram, include a call-to-action encouraging viewers to listen to the full episode or subscribe to your podcast.
Crafting your audiogram with these best practices in mind can significantly increase its effectiveness in engaging your audience and driving traffic to your podcast.
Distributing Your Podcast Audiograms
Once your audiogram is ready, effective distribution is key to maximizing its reach:
Social Media Platforms
Platform-Specific Formats: Tailor your audiogram format for different social media platforms. For instance, square or vertical formats work best for Instagram, while landscape is ideal for Twitter and Facebook.
Engaging Captions: Accompany your audiogram with a captivating caption that adds context or prompts discussion.
Timing and Frequency
Strategic Posting: Time your audiogram posts to align with when your audience is most active on each platform.
Consistent Sharing: Regularly share audiograms but avoid overwhelming your audience. Find a balance that keeps them engaged without causing fatigue.
Cross-Promotion
Collaborate with Guests: If your audiogram features a guest, encourage them to share it with their audience.
Community Sharing: Share your audiograms in online communities related to your podcast's topic, but always adhere to community guidelines.
Effective distribution of your podcast audiograms can greatly enhance their visibility and impact, drawing more listeners to your podcast.
Measuring the Impact of Audiograms on Podcast Engagement
To understand the effectiveness of your audiograms, it's essential to measure their impact:
Engagement Metrics
Social Media Analytics: Use analytics tools on social media platforms to track likes, shares, comments, and views of your audiogram posts.
Website Traffic: Monitor any increases in website traffic or podcast plays that correlate with your audiogram sharing schedule.
Listener Feedback
Comments and Messages: Pay attention to what your audience is saying about your audiograms. Are they finding them engaging or informative?
Surveys: Consider conducting listener surveys to gather direct feedback about your audiograms and their influence on audience engagement.
Adjusting Your Strategy
Data-Driven Decisions: Use the insights gathered from these metrics to refine your audiogram content, design, and distribution strategy.
Experimentation: Don't be afraid to experiment with different styles, lengths, and content types to see what resonates best with your audience.
Advanced Techniques and Creative Ideas for Audiograms
To stand out in the crowded podcast space, leveraging advanced techniques and creative ideas in your audiograms can be highly effective:
Experimenting with Interactive Elements
Clickable Links: Some social media platforms allow for clickable links in video content. Use this feature to direct viewers to your full podcast episode.
Polls and Questions: Engage your audience by incorporating polls or questions related to your audiogram content, encouraging interaction.
Animation and Motion Graphics
Dynamic Visuals: Use animation or motion graphics to make your audiograms more visually appealing. Animated text or elements related to the audio content can enhance viewer engagement.
Software Tools: Explore software like Adobe After Effects or Canva for creating more dynamic and visually rich audiograms.
Themed Audiograms
Seasonal Themes: Create audiograms with seasonal or event-based themes. For example, special holiday-themed audiograms can attract more attention.
Episode-Specific Themes: Tailor the design of each audiogram to reflect the theme of the specific podcast episode.
Collaboration with Artists and Designers
Unique Artwork: Collaborate with graphic artists to create unique and custom visuals for your audiograms.
Branding Collaboration: Work with branding experts to ensure your audiograms align with and enhance your overall podcast branding.
Incorporating these advanced techniques and creative ideas can significantly elevate the impact of your podcast audiograms, making them more engaging and shareable.
Conclusion
Podcast audiograms are an innovative and effective way to enhance your podcast's reach and engagement. By creatively transforming audio content into visually engaging snippets, audiograms provide a unique avenue for attracting new listeners and keeping your audience engaged.
Recap of Key Strategies
Effective Creation: Understanding the essentials of creating an engaging audiogram, from selecting the right audio segment to using tools like Descript for seamless creation.
Design and Distribution: Emphasizing the importance of attractive design and strategic distribution across various platforms to maximize reach.
Innovation and Measurement: Encouraging experimentation with advanced techniques and regularly measuring the impact of audiograms on audience engagement.
Final Thoughts
In the digital era, where visual content often dominates, podcast audiograms offer a unique way to showcase your audio content. Embrace this tool to make your podcast stand out and captivate a wider audience.
Whether you're a seasoned podcaster or just starting, integrating audiograms into your marketing strategy can significantly contribute to the growth and success of your podcast.
Engaging with the Community
We invite you to share your experiences with creating and using podcast audiograms. What techniques have worked for you? How have audiograms impacted your podcast's audience engagement?
If you have innovative ideas or tips on making compelling audiograms, feel free to contribute to the discussion. Let's continue to explore and enhance the exciting world of podcasting together.
Exploring more
Read more about audiograms and audio quality: