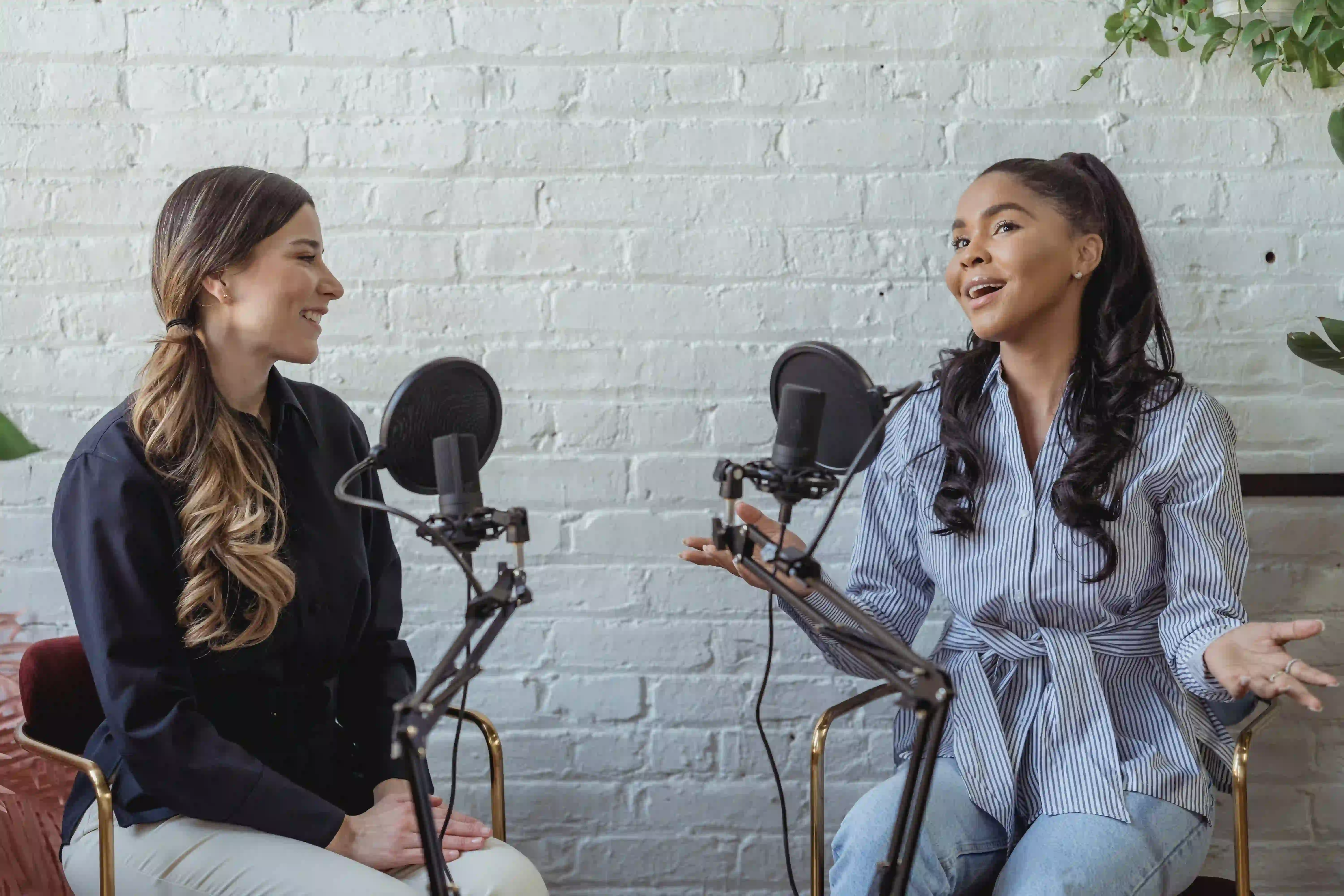 The Ultimate Guide to Podcast Guests: Finding, Hosting, and Benefiting
Published: 01.05.2023 | Podcasting Networking Audience Growth Content Collaboration 
Introduction to Podcast Guests
In the dynamic world of podcasting, having a guest can transform the entire experience of an episode. Guests bring diversity, new perspectives, and depth to a podcast, making episodes more engaging and informative for the audience. Whether it's experts sharing their knowledge, celebrities drawing their fans, or everyday people with compelling stories, podcast guests add a valuable dimension to a podcast. This segment will explore the importance of guests in podcasts and why many podcasts are actively looking for guests to feature.
The Role of a Podcast Guest
Understanding the role of a podcast guest is crucial for both hosts looking for podcast guests and individuals aspiring to be on a podcast. Here's what encompasses the role of a podcast guest:
Providing Expertise and Insight: Many podcast guests are experts in their field, offering in-depth knowledge and insights on specific topics. They enrich the content with their expertise, making episodes more informative and valuable.
Sharing Unique Personal Experiences: Some guests may be invited to share their unique personal stories or perspectives. These narratives can be deeply engaging and add a human element to the podcast.
Enhancing Episode Diversity: Guests can introduce new voices and opinions, breaking the monotony and adding variety to the podcast. This diversity can appeal to a broader audience.
Promoting the Podcast: Often, guests have their own following. Their appearance on a podcast can attract their audience, thus helping in growing the podcast audience.
Types of Podcast Guests: Guests can vary widely - from industry leaders, celebrities, fellow podcasters, to ordinary individuals with extraordinary stories. Each type of guest brings something different to the table.
Benefits of Featuring Guests on Your Podcast
Incorporating guests into your podcast episodes can bring a multitude of benefits:
Enhancing Content Quality
Diverse Perspectives: Guests introduce new viewpoints, making discussions more dynamic and engaging.
Expert Insights: Expert guests can provide in-depth knowledge, adding value and credibility to your podcast.
Audience Growth and Diversity
Attracting New Listeners: A guest with their own following can bring new listeners to your podcast.
Broadening Content Appeal: Different guests can make your podcast appealing to a wider audience demographic.
Expanding Your Network
Building Relationships: Collaborating with guests helps in networking within and outside your industry.
Potential for Future Collaborations: A good relationship with guests can lead to more collaborations or referrals.
Featuring guests can significantly contribute to growing your podcast audience and enriching your podcast content.
Finding the Right Guests for Your Podcast
Finding the ideal guest for your podcast is a crucial task. Here's how to effectively find podcast guests:
Identifying Potential Guests
Align with Your Podcast's Theme: Ensure potential guests have expertise or experience relevant to your podcast's focus.
Guests with a Story to Tell: Look for individuals who have unique perspectives or interesting stories that resonate with your audience.
Utilizing Various Channels
Social Media: Use platforms like LinkedIn, Twitter, or industry-specific forums to identify and connect with potential guests.
Podcast Guest Directories: Utilize online directories where you can find and contact potential podcast guests.
Listener Suggestions: Sometimes, your audience can suggest great guests. Consider creating a channel for listener input on guest recommendations.
The Approach
Personalized Invitation: When reaching out, make your invitation personal and informative. Explain why they would be a great fit for your podcast.
Finding the right guests requires a mix of research, networking, and effective communication, ensuring they align with your podcast's theme and audience interests.
Podcasts Looking for Guests: How to Matchmake Successfully
For podcasters actively looking for guests and individuals seeking guest appearances, successful matchmaking is key:
For Podcasters
Clear Criteria: Define what you are looking for in a guest - their expertise, experience, and the kind of value they bring to your podcast.
Advertising Your Need: Use your podcast, social media, and podcasting networks to announce that you are looking for guests.
For Potential Guests
Researching Podcasts: Find podcasts that align with your knowledge, interests, or experiences.
Pitching Yourself: Prepare a compelling pitch explaining how you can add value to their podcast.
Both podcasters and potential guests should engage in active communication, clearly stating their intentions and expectations for a successful collaboration.
The Process of Inviting and Securing Podcast Guests
Once you have identified potential guests, the next step is to invite and secure their participation:
Crafting a Compelling Invitation
Personalized Communication: Address the potential guest by name and mention specific aspects of their work that resonate with your podcast.
Value Proposition: Clearly articulate the value they would bring to the podcast and what they would gain from participating.
Coordinating Logistics
Scheduling: Find a mutually convenient time for recording. Be flexible and considerate of the guest's schedule.
Technical Requirements: Inform your guest about any technical aspects or requirements, like microphone setup or software to be used.
Building a Relationship
Rapport Building: Establish a rapport with your guest before the recording. A pre-recording call or meeting can be helpful.
Post-Episode Follow-Up: After the episode is published, follow up with your guest. Express gratitude and share the success or feedback of the episode.
Best Practices for Podcasters Hosting Guests
When you're hosting a podcast guest, ensuring a smooth and enjoyable experience is key to a successful episode. Here are some best practices to consider:
Preparing for the Guest
Research Your Guest: Spend time understanding your guest's background, expertise, and recent activities. This will help in crafting insightful questions and a meaningful conversation.
Clear Communication: Prior to recording, provide your guest with clear details about the topic, format, length, and any other expectations.
Technical Setup and Considerations
High-Quality Recording: Ensure both you and your guest have a good microphone and a quiet environment for recording. Test the recording setup beforehand.
Backup Plans: Have a backup recording method in place in case of technical issues. Tools like Zencastr or SquadCast can be used as backups.
Making Guests Feel Comfortable
Welcoming Environment: Create a friendly and welcoming atmosphere during the recording. Start with casual conversation before diving into the podcast content.
Guidance and Support: Guide your guest through the process, especially if they are new to podcasting. Offer support and reassurance to put them at ease.
After the Recording
Express Gratitude: Always thank your guest for their time and contribution.
Post-Episode Promotion: Share the episode with your guest and encourage them to promote it to their audience. Provide them with all necessary links and promotional materials.
By following these best practices, you can create a positive and productive experience for your podcast guests, which can lead to more impactful episodes and stronger relationships.
For Potential Guests: How to be an Excellent Podcast Guest
If you're looking to be a guest on a podcast, being well-prepared and engaging is crucial. Here's how you can be an excellent podcast guest:
Preparing for Your Appearance
Understand the Podcast: Listen to a few episodes to get a feel for the podcast's style and audience.
Know Your Message: Have a clear idea of the key messages or stories you want to share. Be concise and articulate in your communication.
Communicating Effectively
Active Listening: Engage in the conversation by listening actively to the host's questions and responding thoughtfully.
Avoid Monologues: While it's important to share your insights, avoid long monologues. Keep the conversation interactive and dynamic.
Sharing Your Insights and Stories
Authenticity: Be genuine in sharing your experiences and insights. Authenticity resonates well with listeners.
Relevant Anecdotes: Use anecdotes or personal stories where relevant, as they can make your contributions more relatable and memorable.
Promoting the Episode
Social Media Sharing: Once the episode is live, share it on your social media platforms. Tag the podcast and use relevant hashtags.
Engage with the Audience: Respond to any comments or feedback related to your podcast appearance to further engage with the audience.
After the Show: Maintaining Relationships and Leveraging Guest Appearances
The relationship with a podcast guest shouldn't end with the recording. Maintaining a positive relationship and leveraging guest appearances can lead to further opportunities and benefits for both the host and the guest.
Maintaining a Good Relationship with Guests
Follow-Up: Send a thank you message after the episode airs, expressing your appreciation for their participation.
Sharing Success: Update your guest on the performance of the episode, such as listener feedback or download numbers.
Continued Engagement: Engage with your guests on social media, supporting their ongoing projects or endeavors.
Leveraging Guest Appearances for Growth
Networking Opportunities: Use the connection with your guest for networking, potentially leading to more guest opportunities or collaborations.
Building a Portfolio: Keep a record of your guest appearances, as they can serve as a portfolio of your expertise and speaking experience.
For Guests: Maximizing Your Podcast Appearances
Promote Your Appearance: Share the episode across your platforms to showcase your expertise and reach a wider audience.
Connecting with Listeners: Engage with listeners who reach out or comment on your episode, building your personal or professional network.
By actively maintaining relationships and leveraging guest appearances, both podcasters and guests can mutually benefit, leading to potential collaborations and audience growth in the future.
Conclusion
Featuring guests on your podcast or being a guest on others' podcasts are strategies that can significantly contribute to the growth and enrichment of your podcast. Whether you're a podcaster looking for podcast guests or an individual seeking guest appearances, understanding the dynamics and best practices of guest involvement is crucial.
Key Takeaways for Growing Your Podcast with Guests
Effective Matching: Finding the right guest for your podcast or the right podcast for your guest appearance is key. Utilize various channels and networks to find podcast guests or guest opportunities.
Preparation and Engagement: Prepare thoroughly for your episodes, whether you're hosting or guesting, to ensure meaningful and engaging conversations.
Post-Episode Relationship Building: Maintain relationships with your guests or hosts post-recording to build a supportive network within the podcasting community.
Final Thoughts for Podcasters and Potential Guests
For podcasters, remember that guests can bring fresh perspectives, expertise, and a new audience to your show. For potential guests, guest appearances can be an excellent way to share your story, insights, or promote your brand.
Stay open to opportunities, be proactive in your outreach, and most importantly, enjoy the process of connecting, sharing, and growing through podcasting.
Inviting Further Discussion and Sharing
We encourage readers to share their experiences with podcast guests, either as a host or a guest. What strategies have worked for you? How have guest appearances impacted your podcast or personal brand?
Feel free to leave comments with your stories, tips, or questions about navigating the world of podcast guests. Let's continue to learn and grow together in the vibrant podcasting community.
Exploring more
Read more about podcast marketing: